Posted by Spice Enthusiast on Jan 7th 2019
You don't need a meat patty to make tantalizing burgers! Whether you're a vegetarian or simply wish to try new food options, veggie burgers are the way to go.
Here are a few tips for you to make your veggie burger so flavorful that you'll forget all about the Big Macs and Quarter Pounders!
Sauté the Veggies
If you're adding chopped vegetables to your burger, don't just add them raw! Sure, lettuce and cucumbers taste the best when crisp and fresh, but think of all the other veggies you're using.
Onions, bell peppers, beet root, celery, and carrots are amongst some of the commonly used ingredients. Chop these up the way you like, and toss them in the frying pan for sautéing. Not only will this cook them up and make them easier to chew, but it'll also unlock their aromatic potential.
Add a tablespoon of olive oil, toss in the veggies, and sauté them till they become golden and soft. Don't forget to add salt and a bit of cayenne pepper for an enhanced taste!
Season Generously
You don't want bland and boring burgers! Whatever ingredients you wish to use, make sure you season them generously with a variety of herbs and spices.
Salt, freshly crushed black peppercorns, garlic powder, paprika, and oregano are amongst the staple seasoning ingredients that'll go well with almost anything. However, be as creative as you can be when seasoning your burger filling. Will BBQ Seasoning give it a richer flavor? Can ground cumin be used to enhance the tanginess? Will thyme and basil add a more Italian touch to your burger?
There are plenty of seasoning options to choose from. Depending on the ingredients you're using and the theme you've set for your meal, you can select from a range of spices.
Spice Up the Condiments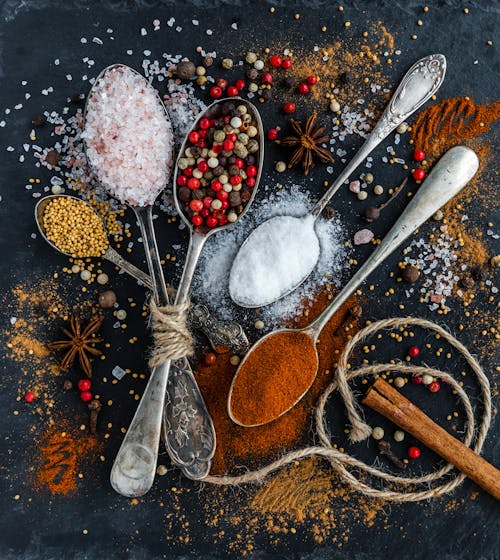 We're long past sticking to just ketchup and mustard for our burgers. Almost every good burger joint has its own secret sauce, made from a blend of textures and spices.
Don't neglect your condiments when you're making your veggie burger. Whether you improvise a new BBQ sauce, vinaigrette, or an herb aioli, there are a number of ways to top your burger filling with a juicy and flavorful sauce. Play around with the flavors, add a few spices, and enjoy your own stash of secret sauce for your burger!
Spice Enthusiast creates the perfect blends of spices for all your cooking needs. Browse through our range of premium salts, spices, and baking ingredients to place your order.
Follow our blog to get your hands on the best cooking and baking tips and tricks.